How to become a Pilates Trainer in Singapore
Pilates has been practised since the 1920s, originally developed to rehabilitate wounded soldiers. Over the years, due to its effectiveness and timelessness, it has only gained more recognition and popularity has boomed. The Asia-Pacific pilates and yoga studios market is anticipated to grow at a CAGR of 10.9%, so, it's safe to say pilates is here to stay. But before you pursue this career path, it is important to note that becoming a pilates instructor requires you to invest a good amount of time, commitment and money. With numerous excellent certifications and courses in the market, the options can be overwhelming. Here we've complied certifications, courses and studios in Singapore to jumpstart your instructor journey.
1) Types of pilates 
Before you jump into attending various courses, it would be beneficial to expose yourself to the different types of pilates and choose a genre that you enjoy. This a great opportunity to ask lots of questions and find out more about your instructors' training and certification. Here are some of the types of pilates classes available:  
Classical Pilates
Pilates from the 1920s. Original form of pilates designed by Joseph Pilates. Classical Pilates typically combines mat and apparatus work following steps in a particular order which is designed to move the body through a full range of movements.
Mat Pilates 
Mat Pilates is the most accessible form of Pilates, it can be done anywhere with no equipment needed. This normally makes it much cheaper and also easier to do in a class.
Contemporary Pilates aka hybrid pilates
Contemporary Pilates is a variation of Classical Pilates combined with contemporary forms of exercise such as physiotherapy, yoga, aerobics, aerials etc. whilst also incorporating modern knowledge of the body and biomechanics.
Reformer Pilates
Pilates exercises done with some special types of machines are known as reformer Pilates. They are best for the spine, legs, and shoulders.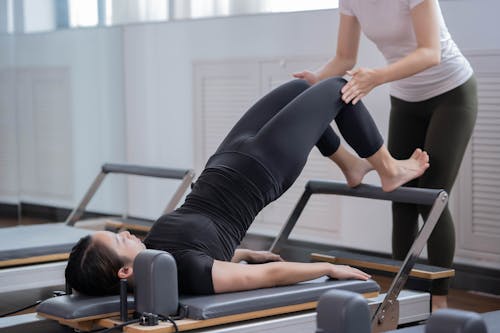 Stott pilates 
STOTT aims to restore the original curve of the spin and protect ad improve the muscles surrounding the joints. 
2) Certifications and courses 
Unlike other fitness disciplines, the Pilates Industry is not regulated. If you do not take the exams, you'll be a Pilates-trained instructor. After completing the exams, you will be a certified Pilates instructor. 
Here is a compiled list of certifications and courses in Singapore to kickstart your learning or continue your education:  
Studio Details 
Duration 
Price 
National Pilates Certification program (NPCP)

Covers: 

Mat

Reformer

Trapeze Table

Wunda Chair

Ladder Barrel

Spine Corrector

Magic Circle

Curriculum: 

Lectures: History of Pilates, anatomy, special populations

Observation hours (student observes an experienced teacher)

Practice Teaching (under the guidance of an experienced teacher)

Self-Practice hours

NCPC certification exam: 

min. 450 hrs 

Basic level 1: S$100-S$300 

Comprehensive programe: S$3,000-S$5,000

Exam: S$295 (includes first 2 years of certification)

Breathe Pilates 

MERRITHEW™ Licensed Training Center

STOTT PILATES Method 

Mat and equipment focused 

Other training courses: 

Intensive Mat-plus®

Intensive Reformer

Intensive Cadillac

Intensive Chair

Injuries And Special Populations

Zen-ga®

Intensive Barrels

Total Barre®

10 – 50 hrs (depending on course) 

Functional Anatomy 

Course Fee S$1200

Material S$130

Anatomy Review – S$540

Intensive Mat Plus

Course – $1800

Materials – $320

Support book – $60

Total – $2180

Intensive Reformer

Course – $2400

Materials – $410

Total – $2810

Intensive Cadillac, Chair & Barrels 

Course – $2400

Materials – $900

Total – $3300

Pilatique (SG & MY) 

MERRITHEW™ Licensed Training Center

STOTT PILATES™ Intensive Program (Level 1)

Anatomy Review and Postural Analysis Review Workshop, or the Functional Anatomy course

Min. 30 classes 

Intensive Mat-Plus™ 

Intensive Reformer 

Intensive Cadillac, Chair & Barrels

Not published

Not published

STOTT PILATES™ Advanced Program (Level 2)

Advanced Matwork 

Advanced Reformer 

Advanced Cadillac, Chair & Barrels 

Injuries & Special Populations 

Not published

Not published

STOTT PILATES™ REHAB PILATES

Clinical problem solving using the STOTT PILATES method

A focus on spinal, pelvic and scapular conditions

Over 35 exercises plus multiple modifications

Eligible for certified professionals only**

18 hours of instruction and supervised teaching

min. 6 hours observation w min. 10 hours physical review

min. 10 hours practice teaching w 

Total: 44 hours

1.8 CEC Credits

FitNut Academy

Curriculum: 

7-week course 

Not published

Body Tree Academy (SG & MY)

Curriculum for 2023: 

Pilates Matwork Teacher Certification (Jan 2023)

Induction (10 hrs)

Immersion (30 Hours)

Certification (30 Hours)

70 hrs 

Not published

REFORMER TEACHER CERTIFICATION (March & August 2023 Intakes)

Classroom (60 hrs)

Practice (15 hrs)

Student teaching (15 hours)

100+ hrs 

S$3,907

Special Offers:

All Registrations before 1 Jan 2023: 

S$3207

Registrations before 1 Mar 2023 (for intake TWO ONLY):

S$3607

Spine Corrector Teacher Certification (18 & 19 April 2023)

2 days 

S$699

Comprehensive Teacher Certification (all in one)

Classroom (124 hrs) 

Self Study (80 hrs)

Self Practice (60 hrs)

Observation (15 hrs)

Student teaching (45 hrs)

Curriculum

Pilates Matwork

Spine Corrector

Reformer

Cadillac, High Barrel and Wunda Chair

400+ hr / 36 – 56 weeks

Not published

Options Pilates Studio

Full range of Pilates Academy International Courses and certification from Pilates on Fifth in NY

Basic: Anatomy, Biomechanics & Posture Analysis

12 hrs 

S$549

40-hour Matwork courses (All Populations Mat or APM)

All Populations Mat I

All Populations Mat II

20 – 95 hrs

Mat I: S$1780

Mat II: S$380

50-hour Reformer courses (All Populations Reformer or APR)

All Populations Reformer I

All Populations Reformer II

50 – 55 hrs 

Reformer I: S$2480

Reformer II: S$1300

Full Studio courses (All Populations Cadillac, Chair and Barrels or APCCB)

All Populations Cadillac I & II

All Populations Chair I & II

All Populations Barrel I & II 

25 – 70 hrs 

25 – 55 hrs 

11 – 24 hrs 

Chair, Cadillac & Barrels I: S$2480

Chair, Cadillac & Barrels I: S$1500
3. Finding Employment
Depending on the studio you work with, some may allow you to start right away after the course without the exams. Pilates trainer openings in Singapore are not limited, source opportunities by searching job sites and explore traineeships and apprenticeships in studios you are interested in. 
Job sites: 
Indeed

LinkedIn

Monster

MyCareersFuture SG
Studio Trainee Program
Requirements 

Breathe Pilates  

2 interviews + in-house training programme 

1st interview: during the course 

2nd interview: character and commitment

In-house training: 3 levels of mocks and exams 

Options Pilates Studio 

Apprenticeship scheme: 

35 hrs per week 

Able to use Pilates equipment, participate in group classes and practice

Certified Pilates instructor after the apprentice period 
For freelance pilates trainers, you can consider renting a studio space per hour. Some studios provide all the equipment you would ever need to conduct your lessons.
Pilates Studio 
Details
Rental Fees 

Core Fitness 

2000 sqft facility includes: 

4 Reformers

2 Cadillacs

1 Wunda chair,

1 Ladder barrel

2 Spine correctors

and Many small props

All equipment and props are from Balanced Body.

Not published 

Modern Pilates 

Single Equipment/ Whole studio

Combi Reformer

Reformer

Ladder Barrel

Wunda Chair

Mat with Mirror (Soft 10mm)

Cadillac

Combi Mat (leather mat)

Not published 

The ROOFTOP STUDIO

** Pilates Matwork only** 

S$23 – S$68 per hr 

(depends on time) 

Stepping Out Studio

**Suitable for Yoga or Pilates Matwork only**

Not published 
In a nutshell
Being a pilates instructor can be fulfilling, and there are great opportunities and resources to continue upgrading your expertise in this space. If you are ready to improve the well-being of others and turn this passion into a profession in this exciting space, there's no better time than now to start exploring your course options.
This article was written by Liza Wee.